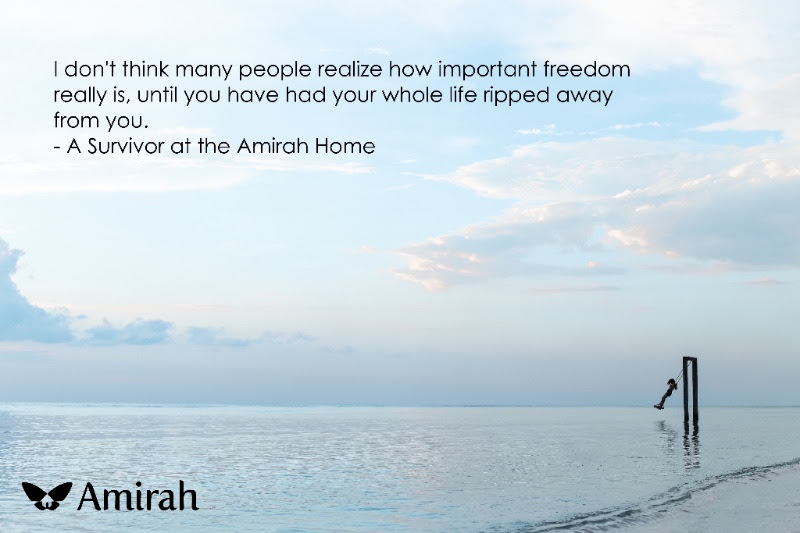 RHC links arms with Amirah, a faith-based nonprofit organization in the Boston area. They strive to provide a refuge, for those seeking to break free from human exploitation, and

heal in community, on their journey toward lasting hope.



Here is a recent story from a survivor (excerpt from the
Amirah Blog
):
"When you are lost and trapped in this tunnel, you have no clue how to get out, and you really don't care so much about yourself or how important you are. I can say that I have been clean and sober for over a year, and it is possible that I survived because I was that girl that did not want to live like that and was looking for that way out.
Now I look back at the old me while being in this program and I'm in awe of how far I've come. I care a lot about my recovery, but I know that it takes a lot of work and it is not always easy. Life is like a rollercoaster; you will have your highs and lows.
Life in recovery does not just happen overnight; it might take a year or longer. You need medical insurance, a doctor, a counselor, and you will probably have some medications that you will have to take. Getting back into normal life can be scary. It was for me, but I did it.
Gary Haugen, the founder of IJM said, "The victims of injustice in our world do not need our spasms of passion; they need our long obedience in the same direction - our legs and lungs of endurance; and we need sturdy stores of joy."

Time and space - this is what we give each woman that comes into the program and home of Amirah. Time and space to address each complex trauma she has endured in her whole being - her physical, mental, social, vocation, spiritual and emotional recovery.