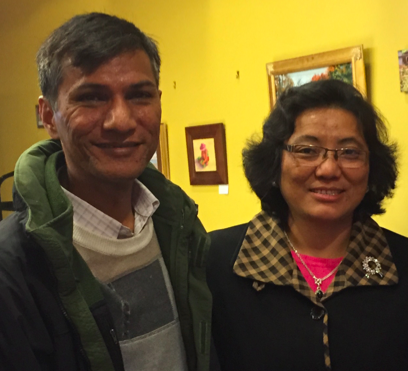 Queens is a place where almost 50% of the population comprises those born outside of the US. Silvanus and Aleno have planted a Nepalese Church in influential
NYC.
Watch the
2.5 minute video
update that was shared this past S

unday

(May 7).
Prayer has been a foundation of their church.
They are
trusting God for 7 churches to be planted in the area.
They have already started partnering with another Church Planter in Elmhurst. They are praying for strategic partners for Sunnyside and starting a small group in Jackson Heights.
As they seek to reach out to those around them, they recently held scavenger hunts in various surrounding areas. They held a Discovery Bible Study to help people learn about God's word and His truth. They recently began building relationships with 15 new people who are not a part of a church community. They held an event
where some Buddhists and Hindus had an opportunity to hear Silvanus' faith story and the Gospel. One man in attendance is from Bhutan and had never heard the Gospel before.
August 9 -13 RHC will send a TEAM to serve alongside Silvanus and Aleno.
Silvanus shared recently, "God is moving in a mighty way in our ministry field, as the Gospel is being spread rapidly in our neighborhoods. At the same time, the enemy is trying to use whatever tool he has. But satan has no power over God's Kingdom!"