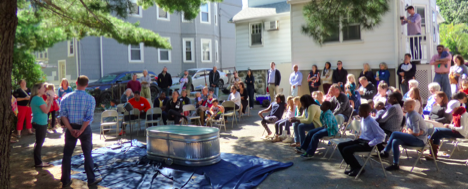 RHC supports
Beacon Community Church
, a church plant in Belmont that was launched from Hope Fellowship Church in Cambridge. God is at work!
Happy 1st Anniversary!
Beacon celebrated the 1st anniversary as a church on
September 25th
. It was a great day to reflect on what the Lord has done! The celebration continued with a baptism. Then it concluded with a BBQ, where newcomers engaged with those who have been at Beacon since the beginning.
Serve the Community
Once a month, Beacon reaches out to love the community, by offering a free
Saturday
morning movie in a local theater. It is a great way to connect and cultivate relationships.