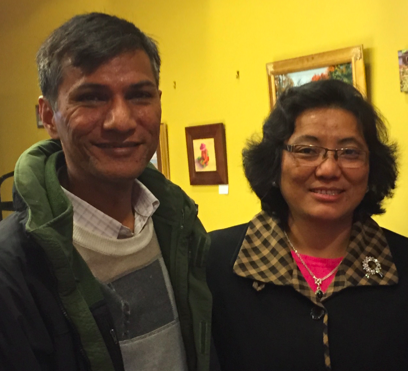 Queens is a place where almost 50% of the population comprises those born outside of the US. Silvanus and Aleno have planted a Nepalese Church in influential NYC. Recently they have seen God at work in prayer and evangelism.

Prayer
"A fellow worker, serving in Bangladesh, joined us for fellowship and prayers at my apartment. We heard the stories from her, about the difficulties, that Christians are facing in that country. We cried out to our Father for Bangladesh. A week later, we received a praise report from her that 5 men came to faith in Christ that week and are preparing for baptism."
Evangelism
"In November, we held a Pizza Outreach. 51 people from Tibet, Spain, Nepal and English speaking countries were gathered together. 2 of the restaurant workers showed interest in participating in a bible study. We prayed for the restaurant manager and staff too. Through various conversations, several heard the Gospel for the first time! A Buddhist man gave his life to Christ on that very night and is growing in his faith in Christ!